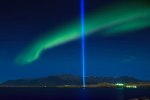 Yoko Ono's iconic Imagine Peace Tower, near Reykjavik, was illuminated last night on the anniversary of John Lennon's birthday.
The massive light will shine into the night sky above the tiny island of Videy, just north of the Icelandic capital city, until 7th December — the anniversary of Lennon's death.
Yoko Ono always attends the lighting ceremony in person and offers members of the public free access to the ferry boats to and from the island to join her.
The cafe and visitor centre on Videy were open last night and musicians Joel Palsson and Oskar Gudjonsson played for guests and the Graduale Nobili choir also entertained visitors, Visir.is reports.
Yoko Ono says that she and John Lennon had always dreamed of erecting a monument to the fight for world peace and Lennon's death did not dampen Ono's spirit. She settled on Iceland as the location for the tower because of the country's renewable energy and because in Japanese mythology, power comes from the north and spreads southward.