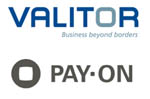 Iceland-based multi-brand payment card acquirer, Valitor has recently entered a cooperation to market its cross-border merchant acquiring services abroad for payment service providers with leading international payment processor PAY.ON AG.
This venture allows Valitor to connect to the PAY.ON gateway PayPipe™, as well as fully integrating into the platform PaySourcing™, enabling payment service providers (PSPs) to utilise global online payment processing, in addition, gaining access to the biggest network of connectors and payment schemes worldwide through a single interface.
For Valitor, this cooperation offers great potential to find new business partners and expanded its global reach via PAY.ON, which currently serves PSPs throughout the world with more than 140 different payment systems.
Valitor's Managing Director, Olafur Vilhjalmsson states: "Building on our experience and established reputation, we have positioned ourselves for significant short-to-medium-term expansion in the cross-border acquiring market. The cooperation provides us with the opportunity to offer our services directly to a number of international PSPs and partners as well as indirectly to even more merchants. Furthermore, with PAY.ON we have the opportunity to expand our corporate services."
Markus Rinderer, CEO of PAY.ON, adds "We are pleased to have Valitor in our global partner network and to add its merchant services to our payment platform. Both companies will benefit from synergy effects. The PAY.ON systems combined with the competitive services of Valitor enable both companies to maximise their market potential."
For further information regarding Valitor's international merchant acquiring services, visit www.valitor.com.