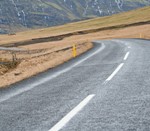 Car rental companies in Iceland are pushing the importance of road safety and knowledge regarding potential hazards when driving through Iceland's highlands; successfully leading to the reduction of road accidents by around 80 percent.
Due to the harsh terrain of Iceland's countryside roads and highlands, visitors are being advised to learn the correct road procedures for the various driving situations that can occur, including river crossing and gravel road driving.
Kristjan Baldvinson, CEO of Iceland Car Rental explains, "It's important for car rental companies in Iceland to educate their customers on how to correctly handle 4×4 vehicles in order to prevent accidents."
He followed by saying, "At Iceland Car Rental, we spend at least thirty minutes with each customer; since we started this mandatory procedure in the summer, road accidents have decreased by 80 percent, with only two this year as apposed to ten in 2010."
Iceland Car Rental offers vehicles that are safe and suitable to drive in the Icelandic countryside such as Jeep, Suzuki and Ford; all of which are available with automatic transmission and considerable engine power, which is needed in the remote areas of Iceland. The company also equips all its vehicles with satellite navigation and mobile phones in order to provide extra safety and peace of mind for its customers.
To book with Iceland Car Rental, visit www.icelandcarrental.is.