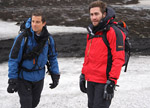 Monday 11th July saw the premier of the seventh series of the popular Discovery Channel UK survival television show Man Vs. Wild with a special Iceland edition. The show's host, Bear Grylls was joined by American actor Jake Gyllenhaal as a one-off co-host to take on the challenges of the Eyjafjallajokull glacier, Katla and Fimmvorduhals mountain range.
During the show, the pair took a trip across the magma formations that lie on top of the Eyjafjallajokull glacier, crossed ice-cold rivers and slept over night in an ice cave.
Over two days, Gyllenhaal took part in whatever the experienced explorer, Grylls undertook, this included eating worms and crawling on a rope across a deep ravine. "For me, it's all about discovery," explained Gyllenhaal.
The Donnie Darko star ended his journey in Iceland saying, "It was just so exciting, I can't describe what it feels like to be out there."
To discover the wonders of Iceland for yourself numerous tour providers offer exciting adventure tours all year round. Whether it being ATV trips across black sand beaches, glacial hiking or volcano tours, Iceland has it all.
Alternatively, if adventure tours aren't your thing, there are also wide range of city breaks to enjoy in the comforts of Iceland's capital, Reykjavik. The world famous Blue Lagoon spa, only a forty-minute coach journey away from Reykjavik, is a great way to relax after a long day hiking or a fun day shopping.
To get to Iceland, Iceland's leading airline Icelandair offers reasonably priced flights from UK gateways London Heathrow, Glasgow and Manchester. The airline also offers in-flight entertainment and generous legroom on all of its flights. To find out more, visit www.icelandair.co.uk.
Image courtesy of dsc.discovery.com