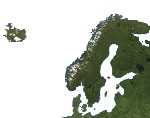 Police have claimed the Schengen Agreement is partly to blame for an increase in Lithuanian gang crime in Finland.
The news comes just days after Denmark was criticised by Germany for apparently breaking the 1985 treaty which allows passport-free travel through much of Western Europe; the Danish government dramatically increased immigration officers at their land and sea borders this week under pressure from the far-right Danish People's Party.
Criminal gangs from southern Baltic States have been committing drugs and property offences in Finland, according to the Lithuanian police. They blame the phenomenon on the free movement of people and the potentially high profits than can be made by cross-border crime.
In an article by YLE, Algirdas Matonis, of the Lithuanian criminal police, said they were well acquainted with the criminal gangs which come from Panevzys and Kaunas to commit crimes in Finland. He added they usually work in small groups, with different people indentifying the targets, committing the offences and planning the getaway, with most fleeing Finland by car.
Mantonis went on to say that the Schengen Agreement has allowed for greater mobility for the gangs, which has increased the lure of cross-border crime. While police are often able to apprehend those who carry out the offences, the mob bosses remain free in Lithuanian, he added.