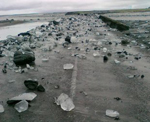 The building of a temporary bridge over Mulakvisl has been much faster than expected at first. Because of the construction it will be necessary to stop ferry transport between 5 PM to about 9 PM today. After 9 PM it will be possible to start the ferry transport again.  
It has also been decided to extend hours of  operation so ferry transportation will not be stopped at 11 PM as in previous days, but continue while necessary.
Law enforcement will be increased at  Mulakvisl while these projects are underway. Travellers are asked to show understanding and patience.
Websites to follow:
•    Promote Iceland – www.iceland.is
•    Icelandic Road Administration – www.vegagerdin.is
•    Iceland Civil Protection – www.almannavarnir.is  
•    Safe travel in Iceland – www.safetravel.is  
•    Road Map of Area – www.vegagerdin.is/english/road-conditions-and-weather/the-entire-country/south1.html
Photo: RÚV