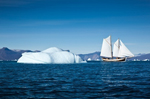 North Sailing has announced a special last minute offer for its Schooner sailing trip to Greenland, with only limited space for trips taking place between August 20th – 27th and August 27th – September 3rd.
Iceland tour provider North Sailing is offering an incredible seven-day Greenland tour, departing from Reykjavik, travelling across the country's east coast on a Schooner sailing boat.
During the trip, the vast fjord system of Scoresby Sound will be explored, giving travellers the opportunity to view spectacular icebergs, the breathtaking basalt mountains of Gaseland and the 2000 metre high sheer granite cliffs of Milne Land. Areas visited will include Fohnfjord, Gaseland, Ankervig, Hekla Havn, Rodefjord, Harefjord, Rypefjord, Ofjord, Bjorneoer, Hjornedal and many more wonderful sights.
The schooners with North Sailing, Haukur and Hildur, are descendants of the first decked sailing vessels in north Iceland in the 19th century. The knowledge and know-how of handling and maintaining gaff-rigged ships had been all but lost in Iceland. The schooners of North Sailing are now the only active vessels of their kind along Icelandic shores.
This discount offer includes the Schooner sailing trip; return transfer between Keflavik and Reykjavik; flights to and from Reykjavik to Constable Point; transport between Constable Point airport and the harbour; accommodation, facilities and meals on board the Schooner; service crews and guides; two dinners in Ittoqqortoormiiit; a lunch buffet in Ittoqqortoormiiit; and transfer from Ittoqqortoormiiit to Constable Point airport.
If booked before 23rd July, travellers will receive this special last minute offer; to find out more, contact birna@northsailing.is.
For further information about Greenland tours on a Schooner sailing boat, visit www.schooners.is.
Disclaimer:
Flights to and from Iceland bust be bought separately; itinerary online is subject to change.