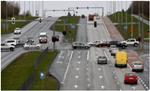 Traffic accidents were among the topics discussed at last week's meeting of Nordic welfare ministers. Welfare minister Gudbjartur Hannesson said in his speech at the meeting that traffic accidents were one of the main causes of injury, especially among young people.
He also stated that Iceland had committed itself to taking steps to prevent more traffic accidents in accordance with the United Nations Universal Accident Preparedness Programme.
The Icelandic government had made various commitments due to this traffic programme, the minister said. This includes supporting the work of the Icelandic Institute of Spinal Cord Injury, as almost half of those who sustain spinal cord damage and paralysis due to accidents suffer their injuries in traffic accidents.
The minister also mentioned in his speech that Iceland had proposed a resolution at the Nordic Council of Ministers that the council should appoint a working group of doctors and scientists with the task of reviewing published information on spinal cord research.
Audur Gudjonsdottir, chairperson of the Icelandic Institute of Spinal Cord Injury, said that with his speech, the Welfare Minister is following up on a resolution on spinal cord injury which the Prime Minister presented before the government in May, committing Iceland to raising awareness of spinal cord injury globally, along with other actions.
She said that it was very difficult to develop effective treatments for spinal cord injuries, and she hoped that the resolution presented by the Icelandic delegation of the Nordic Council would be approved by the Nordic Council Meeting next November.
"Should this group be established, it would become the foundation for a systematic search for a cure for spinal cord injury, supported by the Nordic Council and benefitting not only spinal cord injuries, but also injuries to all parts of the central nervous system," Audur said.
She went on to say that Parliamentarian and head of the Welfare Committee of the Nordic Council, Siv Fridleifsdottir, had presented the resolution at a meeting of the Welfare Committee held in connection with the Meeting of the Council in November of 2010, and the Council had approved the resolution in January 2011.
"Everything now depends on Icelandic parliamentarians following up on the matter with commitment, and getting the matter passed at the Meeting of the Nordic Council itself", Audur said.