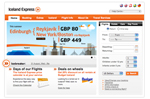 According to a flight statistics overview conducted by the Icelandic airport administration Isavia, Iceland Express received the poorest punctuality rate amongst airlines serviced at Keflavik International Airport, with only 36 percent of its flights on schedule during June, July and August 2010.
Iceland Express' competitor Icelandair was also rated within the report. Icelandair, Iceland's more established airline, received a considerably higher punctuality rate with 74 percent of its flights on schedule.
As stated by Icelandic newspaper Frettabladid, Isavia uses an international frame of reference in this regard, assuming that flights are on time if the time of departure or arrival is no later than 15 minutes after the announced time.
This is not the first time Iceland Express has received bad publicity, in November 2010, Clive Stacey, managing director of the British travel agency Discover the World, wrote a letter to Icelandic Minister of Industry Katrin Juliusdottir to complain about Iceland Express, urging the ministry to look into the airline's operations.
In the letter, Stacey complained that many of Discover the World's clients had suffered a number of inconveniences due to Iceland Express cancelling flights, often with short notice, and due to poor organisation many other flights were delayed. This article can be viewed at visir.is.