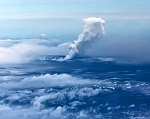 On Monday 30th May, the volcanic eruption at Grimsvotn volcano in southeast Iceland was officially declared over. According to a situation report from the Icelandic Met Office and the University of Iceland Department of Earth Sciences, by 06.30 on Saturday 28th May, volcanic activity at Grimsvotn had decreased massively, and by 07.00 activity had stopped altogether.
Scientists needed to be totally certain about the ceasing of the eruption hence the delay in declaring the official end. However, expedition leaders of the Glacier Research Association of Iceland (GRAI) were finally able to confirm the end of the eruption visually when they arrived at Grimsvotn on their spring visit.
With the clean up operation well underway, tourists have already started to arrive in South Iceland, curious to explore the affected area and to see the ash for themselves. Visits to the crater are not yet allowed as the eruption has only just been officially declared over, however, tour companies are already planning to take advantage of the newest geological wonder with Iceland volcano tours and trips.
Visitors to the area have also been able to visit Eyjafjallajokull which erupted in April 2010. Eyjafjallajokull is still one of the most popular tours on offer today and a museum dedicated to the Iceland volcano opened on the eruption's first anniversary.
Visit www.inspiredbyiceland.com for information about tours and trips to the Iceland volcano. Furthermore, follow the Inspired by Iceland campaign on www.facebook.com/inspiredbyiceland and www.twitter.com/icelandinspired.