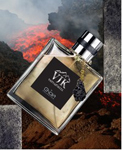 After the huge success of Gydja Collection's debut perfume, EFJ Eyjafjallajokull, the Icelandic fashion label is set to unleash its new eau de toilette for men, VJK Vatnajokull. In the run up to its launch, IceNews caught up with the label's lead designer and founder, Sigrun Lilja Gudjonsdottir to discuss fire, masculinity, volcanoes and her inspirations.
IceNews: Gydja Collection is known for its iconic female designs, what was your motivation to design a fragrance for men?
Sigrun Lilja: Well, since the success of EFJ Eyjafjallajokull, I received a number of requests to develop a scent suitable for men; so I decided to delve into creating an eau de toilette using similar identifiable tones to EFJ, but with a sharp, masculine edge.
IceNews: Can you tell us about the choice of name, VJK Vatnajokull? Did the recent volcanic eruption at the eponymous glacier inspire you at all?
Sigrun Lilja: The fragrance went into production a few months ago, before any signs of an increase in activity underneath Vatnajokull. We actually decided on the choice of name during its initial stages of design – we wanted a name synonymous with power and strength, and seeing as Vatnajokull is the largest glacier in Europe, we thought that the name fitted the concept perfectly. It's funny how these things work out.
IceNews: Sounds interesting! Can you explain this concept further?
Sigrun Lilja: Our concept was to unleash the inner-fire of the wearer; to represent prowess and courage – the name VJK Vatnajokull encompasses all of those elements of masculinity. In fact, everything fell into place for us in terms of themes when the Grimsvotn volcano erupted underneath Vatnajokull – fire, power and most importantly, the courage of the Kirkjubaejarklaustur townsfolk to repair and rebuild their livelihoods.
IceNews: Where is VJK Vatnajokull being produced?
Sigrun Lilja: The fragrance is being produced in Grasse, Southern France. This beautiful village is known for producing some of the highest-quality perfumes on the market; we thought it to be ideal.
IceNews: Your last perfume EFJ was made using glacial water from Eyjafjallajokull; have you used glacial water from Vatnajokull as part of the ingredients for VJK?
Sigrun Lilja: Yes, we have, exactly! We wanted each fragrance to contain a part of Icelandic history – leaving the wearer with not only a wonderful, complex aroma but also with the powerful forces of Icelandic nature.
IceNews: When are you set to release VJK Vatnajokull?
Sigrun Lilja: Gydja Collection will be officially releasing VJK this autumn, with a unique unveiling on top of the Vatnajokull glacier. Watch this space!
For further information regarding VJK Vatnajokull by Gydja Collection, visit www.gydjaperfume.com and www.gydja.is.