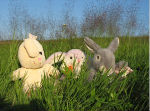 Today is Easter Sunday, the high point of the long Easter weekend.
In the Christian faith, today is the day the resurrection of Jesus Christ is celebrated. It is a day of church services and large meals to celebrate the miracle.
It is also commonplace to eat a lot of chocolate, especially in the form of chocolate Easter eggs. In Iceland, the major chocolate companies have been hand making Easter eggs since Christmas ended!
Whether religious or not, IceNews wishes you a very happy Easter!