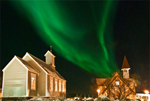 According to the Daily Record, popular Channel 4 travel and property TV personality, Phil Spencer had the pleasure of capturing the Northern Lights whilst filming in Iceland for the new holiday show, Vacation, Vacation, Vacation; proving that there are still opportunities to spot the Northern Lights in Iceland.
It was reported that when Phil Spencer visited Iceland for an overnight stay, he was greeted with the Northern Lights during the filming of Vacation, Vacation, Vacation. This new holiday show is a follow-up to the popular Channel 4 property and travel shows, Relocation, Relocation and Location, Location, Location, and also features co-presenter Kirstie Allsopp – the episode featuring their stay in Iceland will be shown later on this year.
Opportunities to see the Northern Lights in Iceland are still very good, as discovered by the Vacation, Vacation, Vacation team, despite the months of the midnight sun approaching. Icelandair, Iceland's leading airline, is offering a Northern Lights package deal for UK travellers to catch this natural phenomena just in the nick of time.
The Northern Lights City Break with Icelandair includes flights, three nights hotel accommodation (extra nights are also available) and an evening Northern Lights tour with Reykjavik Excursions.  During the tour, experts will take visitors out to locations far away from the city lights, selected for their higher visibility and beauty. Travel for the Northern Lights City Break finishes mid-April, so hurry!
For your last chance to view the Northern Lights in Iceland before the midnight sun, visit www.icelandair.co.uk.