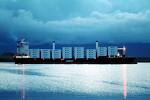 Damage to the bottom of Godafoss, the Icelandic container ship which grounded recently off Norway, is much worse than previously thought.
Godafoss grounded near Oslo Fjord in late February and started leaking oil which caused damage to Norway's only offshore national park and required clean-up crews from both Norway and Sweden. The oil spill was not as bad as feared; but now it has been revealed that the hull of the ship will be harder to repair than previously stated. Damage is worst of the starboard side.
RUV reports that Godafoss is now in dry dock at the Lindo shipyard in Munkebo, near Odense, Denmark. So far, the project has been to empty all of the ships tanks (especially oil) and thoroughly clean the bottom. Once that is completed, repairs can commence.
The full extent of the damage was not revealed until close inspections took place in the dry dock. At this point it quickly became clear that repairs would take a lot longer than had been stated.
Dozens of workers are tending to the ship in Denmark and inspectors are also at the ship yard on behalf of Eimskip, Godafoss's Icelandic owner. According to the works contract, Eimskip expects to have Godafoss handed back for active service on the 10th April.