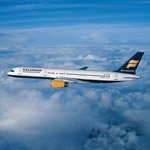 Starting 20th September 2011, Icelandair will be providing independent flights to Glasgow and Manchester as part of its new U.S. flight service.
The Iceland airline will be separating its current four weekly triangle flights and operate two independent flights per week into Manchester and three independent flights per week into Glasgow. These new direct flights will offer more convenient security screening and less travel time for North American travellers.
"We are pleased to operate routes to both Glasgow and Manchester independent of each other, the new flight schedule will optimise connectivity and elapse time. This is a positive improvement for the Icelandair network and we will utilise it to support further growth to the UK," explained Thorsteinn Egilsson, Icelandair's General Manager of The Americas.
In addition to Manchester and Glasgow, Icelandair also operates a daily service into London Heathrow. The 2011 Icelandair schedule features new gateways from the U.S., more destinations in Europe and the largest flight schedule in its seventy-four year history.
Icelandair, the national carrier of Iceland, offers services to Iceland from Boston, New York-JFK, Seattle, and seasonal service from Washington, D.C., Minneapolis – St. Paul, Orlando Sanford, Halifax and Toronto. Connections through Icelandair's hub at Keflavik International Airport are available to over twenty destinations in Scandinavia, the UK and Continental Europe. Icelandair also allows passengers to stopover in Iceland at no additional airfare.
To find out more regarding Icelandair's flights to Glasgow and Manchester, UK, as well as flights to Iceland, visit www.icelandair.us.