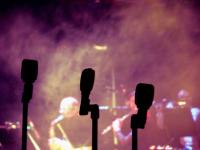 The Eagles — one of the biggest bands ever — are to kick off their forthcoming European tour in Iceland.
The biggest entertainments company in Iceland, Sena ehf., has made a contract with William Morris agenting office in Los Angeles for a giant concert this summer with one of the biggest bands in the world, both past and present.
The one and only EAGLES will take to the stage at New Laugardalshollin (Reykjavik) on 9th June this year. The band's upcoming tour will therefore kick off here in Iceland and the musicians arrive with a 65-man-strong crew in tow. They will use the days leading up to the concert to rehearse in Iceland for their massive European tour.
The Eagles hardly need any introduction. They are the band behind two of the biggest selling albums of all time: Greatest Hits (1971-1975) and Hotel California. The former is the biggest selling album of all time in the USA, with sales of some 29 million copies so far. The Eagles also have one of the best-selling music DVDs ever — Hell Freezes Over, which came out in 1994. The band has had five Number One singles, 14 Top 40 singles and four Number One albums. The Eagles are the best selling American band ever in the USA and have won six Grammys and five American Music Prizes.
The Eagles have released seven albums with combined sales of 120 million — and that doesn't even include compilations or live albums.
Songs like Hotel California, Tequila Sunrise, New Kid in Town, Desperado, Take it Easy, Peaceful Easy Feeling, Lyin' Eyes and Witchy Woman represent some of the most popular musicianship, both at the time and now.
Their newest album, Long Road out of Eden, saw the light of day in 2007 and definitively proved that members of The Eagles and still in top form and full of creative joy.
Sena plans to start selling tickets in the first half of March and only 10,000 will be available — which is small for an Eagles concert. Despite this, the company plans to keep prices down to a level comparable with Eagles concerts elsewhere.
The band — Glenn Frey, Don Henley, Joe Walsh and Timothy B. Schmit — are said to be very excited to visit Iceland and apparently had a large personal say in deciding where the European tour begins.

(Article sourced from an Icelandic-language press release from Sena)