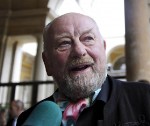 A Somali man who broke into the home of a Dane who caricatured the Prophet Mohammed has been sentenced to nine years in jail and deportation. Mohamed Geele, 29, was found guilty of attempted murder and terrorism after trying to hack down the door of Kurt Westergaard's panic room with an axe last year.
Westergaard, 75, drew one of the most controversial of 12 cartoons of the holy Muslim Prophet Mohammed which were printed by Danish newspaper Jyllands-Posten in 2005. Westergaard was forced to go into hiding immediately before moving into a heavily fortified house due to the outrage caused across the Muslim world.
Geele, who was shot twice by police when they answered the cartoonist's emergency call on New Year's Day 2010, was also found guilty by a court in Aarhus of a separate charge of attempting to murder the policeman who arrested him. The Somali man admitted attacking the officer and illegal entry but repeatedly denied the terrorism and attempted murder charges, claiming he was simply trying to frighten the cartoonist.
Judge Ingrid Thorsboe told the court to consider Geele's actions "as an attempt to instil a heightened level of fear in the population and to destabilise the structures of society".
Geele's defence lawyer Niels Strauss said the sentence will be appealed. He asked for his client to avoid deportation and serve a maximum of six years suspended sentence.