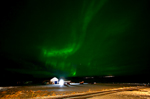 There is so much to explore in Iceland, from the country's amazing landscape, natural hot springs and glacier lagoons, to its wonderful sea life and breathtaking Northern Lights. No matter what time of year, there will always be something unique to visit on a tour in Iceland.
Iceland tour provider, Reykjavik Excursions offers a wide selection of winter and summer tours, from nature trails to adventure tours and glacier hikes. One of the company's most popular tours is its Northern Lights tour.
During the Reykjavik Excursions Northern Lights tour, guides take sky-gazers to locations with the best viewing possibilities, dependent on weather. Here, lucky viewers will get the chance to experience the dancing lights of the Aurora Borealis, which is set to hit its peak in 2011.
Reykjavik Excursions is a fully licensed tour operator and travel agent and is the leading organiser of day tours in Iceland. Reykjavik Excursions operates one of the biggest bus fleets in Iceland, making the company one of the largest organisers of tours both for individuals and groups in Iceland.
To find out more about Reykjavik Excursions' Iceland tours and its Northern Lights Tour, visit www.re.is
Photo taken by Olikristinn – http://www.flickr.com/photos/olafur/