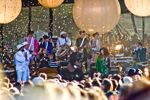 The Icelandic singer/musician Olof Arnalds, recently performed two shows at the Sydney Festival in Australia as part of her ongoing world tour. Arnalds performed two shows at The Famous Spiegeltent in Hyde Park for the annual arts and music festival and an additional show at the Sydney Opera House as a support act for the band Coco Rosie.
"I'm really happy to be in Australia because it is beautiful…I meet a lot of interesting people and it's quite an adventure," Arnalds said in an interview with the Australian publication, The Daily Telegraph.
Arnald's increasing popularity has been earned her support from world renowned acts such as Nick Cave, and fellow Icelanders, Bjork and Sigur Ros.
"Their support is an encouragement because sometimes you are working hard and making music and on the road, so it's good to get support from people who have been on the road for longer," she said.
Bjork has been a big support of Arnald's music and appeared as a guest vocalist on her most recent record. Additionally, Arnalds performs Bjork's Unravel as an encore in her performances.
According to The Daily Telegraph, Arnalds hopes to make visits to Sydney a regular feature of her tour schedule.
The Icelandic musician added, "It's such a nice time to be here…I'm going to have to come back every year in January."
Photo: Oli Kristinn http://flickr.com/olafur