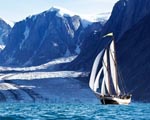 An incredible eight-day Schooner sailing trip across Greenland's east coast is now being offered at a discount travel price by Iceland tour provider, North Sailing; perfect for this year's summer adventure getaway.
North Sailing's Greenland tour explores the vast fjord system of Scoresby Sound, where travellers get the chance to experience magnificent icebergs, the breathtaking basalt mountains of Gaseland and the 2000 metres high sheer granite cliffs of Milne Land. Areas explored include Fohnfjord, Gaseland, Ankervig, Hekla Havn, Rodefjord, Harefjord, Rypefjord, Ofjord, Bjorneoer, Hjornedal and many more wonderful sights.
Other highlights of the journey include sailing to the abandoned trading post at Sydkap, where travellers can help local hunters prepare muskox meat, BBQ on the rocky beach and visit the small village of Ittoqqortoormiit. Ittoqqortoormiit is the most northerly settlement on the east coast of Greenland. The village's quaint houses dot the rocky slopes of south Liverpool Land, with magnificent views of Kap Brewster and the Volquart Boons Coast to the south.
The trip includes, accommodation and meals on board, soft drinks, services of crew, excursions and arrangements as noted in the itinerary, airfare between Reykjavík and Constable Point, and accommodation for one night in Reykjavik before and one night after the flights to/from Constable Point.
There will be a total of three departures in August 2011: Aug. 13th – 20th; Aug. 20th – 27th; and Aug 27th – Sept. 3rd.
When booked before 28th February, travellers will receive a special discount offer. To find out more regarding this discount, contact birna@northsailing.is.
For more information and images, visit www.schooners.is