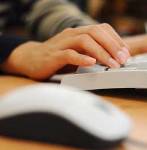 Members of the Swedish Armed Forces surfed pornographic websites on their work computers thousands of times over the last three years, according to a report by Sveriges Television (SVT). The national broadcaster reviewed logs of the organisation's website traffic and found that adult sex sites were visited by employees almost every day.
"This is unacceptable, of course," Per-Olof Stalesjo, human resources director of the Armed Forces, said in an interview with news agency TT. He admitted, however, that it is not the first time workers have been caught out.
"Every time it comes up, it is very unfortunate. It is a failure not to get these people to understand the importance of not behaving that way," he said. He added that the first cause of action is to talk to an employee if they are caught watching porn. "After that, there can be a talk about several disciplinary actions. In the end, we would talk about resignation," he said.
Stalesjo admitted that more than 10 employees had been caught continuing to search for adult entertainment on the web despite previous warnings. He refused, however, to reveal exactly how many staff members had been found to be breaking the rules.
Despite the extent of the problem, Stalesjo denied that better internet barriers needed to be put in place. "It does not solve the problem. It is about the conduct of the individual. We must solve the problem by working with our values," he said.