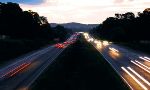 A man who claimed a ghost was at the wheel of his car when he was stopped for speeding has been charged with drunken driving despite being found in the back seat. The 29-year-old was chased down by police in autumn last year after a petrol station worker in northern Sweden reported that an intoxicated driver was motoring erratically along the E4 motorway.
According to the local Dagbladet newspaper, when a previously passed patrol car caught up with the vehicle, officers were startled to see that no one was at the wheel. After proceeding for around 200 metres without a driver, the car finally stopped, allowing police to see that three men were in the vehicle; one in the passenger seat and two others, including the 29-year-old, in the back.
All three men denied that they were at the wheel, but police recognised the 29-year-old as the driver from when he passed their patrol car earlier. The man's defence that the car was being manned by a "ghost driver" was not accepted by the prosecution who are charging him with drunken driving, reckless driving and driving without a licence.