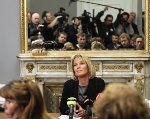 Lene Espersen has handed the leadership of the Conservatives to Lars Barfoed after polls reporting the party's lowest ever public support put pressure on her to go. Espersen, who also serves as Denmark's foreign minister, made the announcement on Thursday night (January 13), just hours after returning from an official visit to Qatar.
Espersen told a press conference that she felt it was time to resign her post, as she felt the commotion centred around her was standing in the way of the party's success. "There is no doubt that I am responsible for where our party is today. Therefore, the best thing for me to do is to step down," she said.
Commerce minister Brian Mikkelsen and justice minister Lars Barfoed were expected to spar over Espersen's succession. But after meeting for talks immediately after the press conference, Mikkelsen announced that he was withdrawing his candidacy.
"We have discussed our party's future policies and strategy and we agree on all points," Mikkelsen said in a statement. "On that basis I warmly recommend Lars Barfoed as the party's new leader." Barfoed was formally appointed by the Conservative Party's 17 MPs the following day.
Espersen, who had been leader of the party since September 2008, will continue in her post of foreign minister which she has held since February 2010. There had been calls on all sides for her to step down after figures revealed the party's public support was waning.
During Espersen's time at the helm, the Conservatives halved the unemployment benefits period and lowered income taxes by 7.5 percent.
Photo: Scanpix