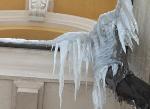 Property owners in Helsinki who failed to clear snow from their roof may be tried for involuntary manslaughter after an elderly man died after being stuck by falling ice. Police say that it is possible that the proprietors of the house were negligent in their responsibility to clear the roof after a man died on Monday, January 10, in Finland's Hakaniemi district.
Police inspector Karl Martikainen from Helsinki police said that although some snow had been cleared from the roof and there were barriers in place to prevent pedestrians from walking in front of the building, police were considering whether the incident could be charged as involuntary manslaughter. He added, however, that the threshold for investigating such cases is usually very low.
"A preliminary investigation has been started and that is done if there is reason to suspect that a crime has been committed. In any case, there have been serious consequences and there is reason to suspect some kind of negligence regarding the clearing of the roof," said Martikainen in a YLE report.
As a result of the accident, the Finnish Real Estate Management Federation is advising home owners to clear their roofs where there is a danger of falling ice.
Photo: YLE / Kimmo Gustafsson