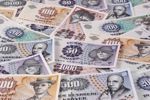 Every Dane born will cost society hundreds and thousands more than they pay back in taxes, according to a new forecast.
Experts have warned that the rising price of social services could spell doom for Denmark after the Centre for Political Studies (CEPOS) reported that each person in the country will result in an outlay of DEK 850,000 (USD 150,000). That's DEK 100,000 (USD 17,600) more than the figures for 2004.
"As things stand, the Danish welfare model is not viable. It is steering straight towards doom" said Mads Lundby-Hansen, chief economist at CEPOS, in a report by Berlingske Tidende newspaper.  "If we continue this way, we risk ending up like Greece or Ireland," added another economic expert, Hans Jorgen Whitta-Jakobsen.
Professor Jorn Henrik Petersen, of the University of Southern Denmark, sits on a government panel of experts which attempts to find ways to sure-up the social welfare state. He believes that the responsibility for making the system work lies with individual citizens.
"If this system is to survive, we need to make sure that those who are in no immediate need of help try to stay away from public benefits," he said.