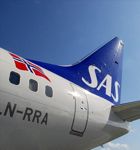 Norway's trade minister has denied that the country is in talks with major European airlines to sell its stake in SAS. Trond Giske said negotiations with British Airways, Deutsche Lufthansa and Air France have not yet taken place after Danish newspaper Boersen reported that the carriers were ready to start a bidding war over the Nordic region's biggest airline.
The struggling budget carrier, which is part owned by the governments of Norway, Sweden and Denmark, lost money in all but one of the past 12 quarters due to competition from other low-cost airlines. It is believed that Europe's second-largest carrier, Lufthansa, may announce take over plans for SAS within the next six months.
Giske said he welcomed a bidding war but added that any buyer would need to offer a good sale price, guarantee adequate flights in Norway and protect existing employees. "We don't have a strong need to be owners in an airline company, so should an offer that satisfies all three criteria come along, we'd be open to selling," Giske said in a report by Bloomberg.
Anders Lindstorm, SAS spokesman, has so far declined to comment on the speculation. Representatives from British Airways, Air France and Lufthansa are also remaining tight-lipped on their designs on the troubled carrier.