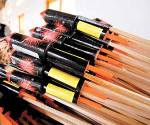 Fewer Danes are buying illegal fireworks from abroad, according to the latest police reports. The amount of people bringing rockets and bangers across borders is said to have fallen significantly over the past year.
Referring to a huge explosion at a fireworks factory in the Jutland town of Seest in 2004, Copenhagen Police Superintendent Lars Jacobsen said, "One of the reasons is the effective increase in police measures after the firework accident in Seest. Five to ten years ago we had huge problems, but now the fire authorities are controlling and monitoring the vendors closely, and we have generally had few problems with illegal fireworks."
Jacobsen added, however, that the final count of illegal fireworks will only be released some time after New Year, when the majority of powerful fireworks are confiscated. "Most of the illegal firework activity we have is people bringing illegal fireworks from abroad," said Jacobsen.
South Jutland Police vice-superintendent Tim Wulff said Danes usually travel to Germany to buy illegal fireworks, but that they have recently seen a change in trends.
"Over the past years we have experienced less people driving across borders to buy fireworks. Furthermore, we are actually seeing more Germans coming to Denmark to legally purchase our fireworks due to the higher safety standards," he said.