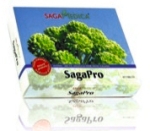 SagaMedica is an Icelandic company that specialises in research on Icelandic medicinal herbs and produces effective natural products from them.
Now, a parallel, randomised, double-blind, placebo-controlled clinical study is being performed on the company's top product – SagaPro, which is used to reduce the frequency of urination in both men and women. The study investigates the effect of SagaPro on nocturia in men and results are due in April 2011.
According to Perla Bjork Egilsdottir, biochemist and SagaMedica's marketing director, the clinical study is the first one ever conducted on an Icelandic natural product.
"This study is a huge step for SagaMedica and important for the Icelandic natural products industry as a whole", explained Egilsdottir, adding that many foreign distributors are eagerly waiting for the results of the study. "According to our market experience, SagaPro does not have significant side-effects and we are optimistic that the study will confirm that," she added.
SagaPro has been very successful since it was launched in 2005. According to SagaMedica, the product has enjoyed increasing popularity among men with prostate enlargement (BPH) and people with an overactive bladder (OAB).
"This rigorous study provides us with the credibility we need to push SagaPro forward and make it an international brand in this very important and growing niche market," commented Egilsdottir, pointing to the fact that as the general population gets older there will be more need for effective natural products that address this health issue.
SagaPro is made from Angelica archangelica growing wild in Iceland. The herb has been used traditionally for 1100 years by Icelanders. SagaMedica's scientists have studied the herb since 1992 and their research has shown that it contains various bioactive compounds that are thought to be relevant for health. Among these are flavonoids and other compounds that may play a role in reducing urinary frequency.
SagaPro is available from SagaMedica's online store and ships worldwide.