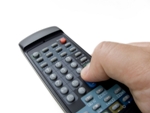 Danes young and old are in danger of getting square eyes, according to a new study which reports the dramatic increase of television watching in the country. National broadcaster DR is due to release its annual Media Development report in January, which reveals how children and the elderly are watching more TV.
The figures show that every Dane above the age of three spends an average of three hours and 20 minutes in front of the box each day. This increase has come as a surprise to media analysts who had previously forecast that people would begin shunning television in favour of creating their own personal media on the internet.
"We were wrong because we overestimated individualism and underestimated community feeling," said Communication Consultant Henrik Byager in a report by Politiken. "Television is our hearth – we have a vast emotional tie to the television, something we do not have with the computer," he added.
"The television is the mother ship that we sit around while we Google or check our Facebook profile. After the common programme we each have our individual consumption. Dad watches Champions League soccer, Mum watches Desperate Housewives and the daughter in the family watches a music program," Byager went on to say.
According to DR, a number of factors such as improved programming, the recession and better viewing equipment have made television more attractive for the whole family. While the older generation watches the most TV, those between the ages of 15 and 24 have increased their daily intake of small screen programmes by a massive 50 percent since 2007.
"We are surprised. Young people also see web-TV and TV on their mobiles, but much less than expected. Everything seems to point to television remaining popular," said DR Media Researcher Kurt Holm Jensen.