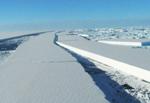 A glaciologist has warned that, after a year of record-breaking temperatures, the Greenland ice sheet is "retreating and thinning extensively" and global warming is "worse than ever".
Dr Alun Hubbard and his team of 15 students from Aberystwyth University camped on the ice sheet for five months from May and found that rising temperatures had caused extensive melting in this "very sensitive polar region of the planet". The melt water, which runs into the Atlantic and Arctic oceans, was found to be double the quantity of that seen in 2009.
Dr Hubbard, however, disputes claims that the ice sheet could collapse completely in 50 years but agrees that its future is grim. After the summer-long expedition, he concluded that it would take at least 100 to 1,000 years before the ice sheet "potentially passes any point of no return leading to any widespread collapse".
The team also found that enhanced melting was "directly contributing to global sea-level rise" and that global warming, at least locally in Greenland, was "worse than ever".  "This year was another record-breaking year marked by very warm temperatures across Greenland and the Arctic," said Dr Hubbard in a report by the BBC.
"This warming enhanced and extended melting into new northern and upper parts of the ice sheet generating huge quantities – at least double that compared with the previous year – of melt water, which runs off the ice sheet into the ocean," he added.