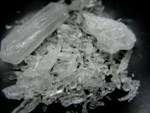 Finland's largest ever haul of amphetamines has been intercepted by drugs squad and customs officials in Helsinki. A 20kg batch of methamphetamine, known commonly as crystal meth, has been seized in a forest area near the east of the capital.
The police, who say this particularly dangerous substance is increasingly being sold for recreational use in Finland, say at least 10 people are suspected of aggravated drug offences. Some of this group, mainly made up of people from Finland or Lithuania, are currently being held in custody.
The haul is believed to have a street value of around EUR 500,000 but it is thought that several kilos of the batch have already been sold on. Police are also concerned after investigations suggested that supply far outstrips the demand for the drug.
According to Helsinki Drug Squad Chief Petri Rainala, users of so-called "designer drugs" often wrongly believe that they can manage their use of the highly addictive drug. "The recreational use of such substances has been beyond the control of many for a long time," he said.