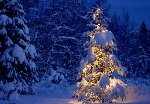 After huge increases in the price of Christmas trees between 2005 and 2009, the cost of 2010's most popular size is heading for the stratosphere.
Possibly due to demand exceeding supply, as too few trees were planted, this year's most popular size of the Nordman Fir will cost at least DKK 160 per metre, a 25 per cent increase. This comes after an 80 percent increase over the past four years , which is causing concern for the Danish Consumer Council.
Chief of the consumer watchdog, Martin Salamon commented, "It's strange that prices continue to rise. Consumers have every reason to be sceptical and they should negotiate prices before buying."
Kaj Ostergaard, Director of The Danish Christmas Tree Growers Association, explained, "It takes nine years to produce a Christmas tree and it is difficult to forecast a market nine years ahead. That is why these price differentials happen." However, last August Ostergaard's association was fined a total of DKK 500,000 by the Danish Supreme Court for its instructions to members to set a minimum price for the trees.
According to Salamon, the association in 2007 stated it had begun replanting in 2004 and that the treets would be ready by this Christmas. Anti-trust organistions are watching the situation but don't consider the present price increases to be a result of a price-fixing scam.