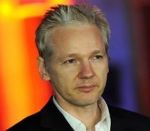 The two Swedish women whose accusations of rape and sexual molestation blew the lid on the WikiLeaks saga are keeping well out of the spotlight.
Named as 'Miss A' and 'Miss W' by the British court as Swedish prosecutors refused to name them, the two are going to some lengths to avoid journalistic confrontations. One, Miss A, has left the country and is now lurking in the Palestinian territories at a Christian mission, the other has cut all contact with the outside world .
Miss A describes herself on her still-active blog as a 'a political scientist, communicator, entrepreneur and freelance writer with special knowledge in faith and politics, equality matters, feminism and Latin America'. Obviously a very bright woman, she has a Masters' on Cuba but seems to have been a little careless in her blogging. Now removed, one post is entitled, 'how to get revenge on an ex-boyfriend'.
Another Twitter entry by Miss A may have been of interest to conspiracy theorists as another personal description asks, 'CIA agent, angry feminist/Muslim-lover, Christian fundamentalist, lesbian and desperately in love with a man, can one be all that at the same time?' Cyberspace is buzzing with psychobabble as a result.
Miss W, harder to figure out than her co-conspirator, was also at the lecture given by Julian Assange on 14 August and her feelings for the WikiLeaks founder are well-documented in her police statement. She considered him 'interesting, courageous and admirable' after his U.S. TV appearance and made a play for him after his lecture. After they'd had sex, Assange promised to call her, but didn't.
When the two women finally got together, they realised they'd both had similar experiences and the 'hell, fury, women scorned' scenario kicked in, with both heading to the police and organising their own WikiLeak to the Expressen tabloid the following day.