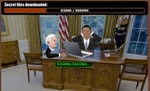 Earlier this month, WikiLeaks: The Game was introduced to the French online gaming website Jeuxjeuxjeux.fr. After only a few days of being online, millions of people had played the game, making it an instant hit. The game was designed by Icelander, Thorir Aron Stefansson and his Dutch colleague, Sebastiaan Moeys.
"We were both in between projects and thinking about what we could do next. We decided we wanted to make something about a current 'hot' topic and WikiLeaks came to mind," explained Stefansson in an interview with DV.
In WikiLeaks: The Game, the player assumes the role of WikiLeaks founder Julian Assange hiding behind President Obama's desk. The player must then manipulate the Assange character to smuggle secret documents from Obama's laptop onto a USB drive as the president falls asleep.
Moeys said, "We didn't plan for this to be a smash hit. We created it as a sort of joke, a social commentary on a developing story." According to Moeys, the WikiLeaks game has been so popular that the site's servers have been under strain. "We had a really difficult time keeping everything online," added Moeys.
According to DV, the WikiLeaks game has received international attention with news websites such as CNN, CNBC Wall Street Journal and other major media covering the story.
To play the WikiLeaks game, click here.