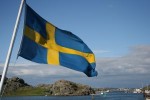 A local politician representing the right wing extreme party Sverigedemokraterna in Varmland, Sweden was fired after writing offensive remarks about Muslims on his Facebook page.
Dagens Nyheter reports that he wrote that everyone should nail pig heads to their doors to keep Muslims away. Previously after his Facebook page had been hacked, the man wrote: "some monkey from Azerbaijan has amused themself by logging into my FB earlier today. ??? muslims ???".
Sverigedemokraterna's District Chairman in Varmland county, Runar Filper commented that politicians representing Sverigedemokraterna should not write anything on Facebook. He also said that the politician in question has removed the remark from his Facebook page and that "he certainly doesn't stand behind it."
Sverigedemokraterna has since announced that the man is no longer wanted in the party.