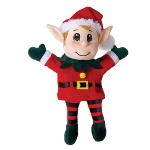 A Danish community has come to the rescue of a stuffed Christmas elf after pastor who believes the little creatures work for the devil hung one from the rafters of his church. Jon Knudsen of the Lokken Free Church in Vendsyssel, Jutland, created a mixed reaction in his flock when he expressed his hatred for Santa's (or Satan's) little helpers by staging a mock execution.
In a reference to the Christian baptism rite, Knudsen strung up an elf outside his church and hung a sign around his neck that read "we reject Satan and all his worked and all his empty promises".  The pastor, who describes elves as "poltergeists that come from the devil and make children sick", argued that using elves as Christmas decorations is "comparable to decorating with Nazi flags".
But not everyone in the town was supportive of Knudsen's actions, with one resident staging a protest by leaving around a dozen metre-high garden gnomes outside the pastor's home. Knudsen also said he received several angry letters from the "elves".
The elf, which had even been provided with its own night watch crew to stop it from being stolen, was eventually liberated from its noose while backs were turned during the day. According to the Copenhagen Post, a note was left in its placed stating that the elf would be "kept safe until after the New Year".
The incident was reported to the police and the culprit eventually confessed. Vendsyssel police have, however, refused to press charges, claiming their "caseload was too heavy to make investigating theft of a stuffed toy elf a priority".