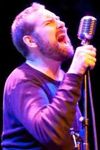 For Reykjavik locals and electronic music tourists alike, Electric Ethics and Extreme Chill presents the 'Christmas Electronic Concert'. The experimental music event will be taking place this evening (Wednesday 15th December) at Faktory in downtown Reykjavik.
Performing at the event will be Arnljotur, DJ Andre, Johann Eiriksson, Snorri Asmundson, Stefan Finnbogi Petursson, Stereo Hypnosis, Omar Stefansson & Jafet Melge, Mummi Visual and "the industrial noise MONSTER with his outrageous plutonium sound" Adalsteinn Jorundsson, otherwise known as AMFJ.
Electric Ethics was created by Olaf Thorsson and Pan Thorarensen in 2007 with the aim of drawing attention to experimental electronic music in Iceland. Together, Thorsson and Thorarensen have organised numerous electronic music events all over Iceland; most recently at Iceland Airwaves 2010.
The event begins at 21:00 at Faktory in Reykjavik and costs ISK 1500 on the door.