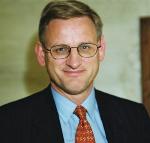 Svenska Dagbladet and Aftonbladet have both reported that confidental documents which reveal the view of diplomats at the U.S. Embassy in Stockholm on Carl Bildt's political abilities have been published by WikiLeaks.
The diplomats have described Sweden's Minister of Foreign Affairs, Carl Bildt as a "medium size dog with big dog attitude" (meaning that he is overconfident in his own power) who wants to play in the big league despite not being from an influental country.
The report also describes Bildt as an "arrogant nobleman" with "limited political abilities" who enjoys a "long leash" by Prime Minister Fredrik Reinfeldt.
The confidental report also describes Carl Bildt as respected in his home country and as a convincing rhetorican that one needs to prepare well before entering an argument with.
The report reveals that Bildt seems to be considered as a nuisance due to his frank expressions and critisisms towards the performance of the coalition forces in Afghanistan, in meetings with senior American officials.
No other Swede has received as much attention as Carl Bildt has in the recently published WikiLeaks documents.