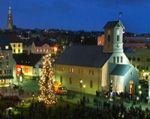 Iceland's capital, Reykjavik has been voted as the top Christmas holiday destination for 2010, according to CNN's travel website, CNNGO.
Reykjavik was ranked number one, beating off strong competition from some of the world's most incredible destinations. Among those listed include Nuremberg, Germany; Pogost, Belarus; Salzburg, Austria and Sydney, Australia.
Christmas in Reykjavik proves to be a magical time with its own traditions and customs. Why not shop for some unique gifts in Reykjavik city centre or visit the charming Christmas Village in Hafnarfjordur? Visit the Christmas-themed museum exhibitions and explore the winter landscape.
In the evening before Christmas Eve, Reykjavik becomes electric. The 23rd December is traditionally known as Thorlaksmessa, or the Mass of St. Thorlakur. This day is celebrated by joining in with the festivities, drinking mulled wine, last minute shopping and partying at various wonderful cafes and bars in downtown Reykjavik. You can also try the traditional dish of putrefied skate, if you are up for the challenge.
On Christmas Eve and Christmas Day enjoy a traditional Icelandic Christmas dinner at some of the best restaurants in Reykjavik, tasting delicacies such as Hangikjot (smoked lamb served with potatoes, vegetables and a white sauce) or Rjupa (Icelandic Ptarmigan).
For children, Iceland has not one but 13 Santas, or Yule lads, bearing goodie bags at Christmas parties. They make their way into town one day at a time starting from 12th December.
To find out more about Iceland as a Christmas holiday destination, visit http://www.inspiredbyiceland.com