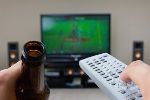 A Danish TV station has cancelled a new sitcom about three incompetent terrorists due to fears that the satire could put off potential advertisers. Danish comedian and the creator of show, Omar Marzouk, is furious that SBS has decided to cancel all 12 episodes of "Cellen" (The Cell).
"It would be easy enough to create a new Muhammed-crisis, but that's not what we're trying to do here," he said in an interview with broadcaster DR. "But as soon as you try to create some debate, it becomes all taboo," he added.
Jorgen Jurgensen, spokesperson for the privately-owned SBS station, said the show was cut due to concerns that it might offend some of the station's advertisers. It is also believed, however, that the current terror threat against the country may have influenced the decision in some way.
SBS was given DEK 4.5 million (USD 786,000) to finance the show by the Danish Film Institute two years ago, but culture minister Per Stig Moller has now warmed that they will have to pay the money back if they don't broadcast Cellen by next summer.
"We must never abstain from doing things out of fear because then whatever stopped you from doing it will win," Moller said in a report by Berlingske Tidende newspaper.