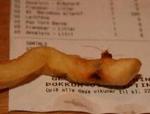 A Kentucky Fried Chicken (KFC) customer in Iceland was surprised to find an insect deep fried in his potato chip last weekend. *Updated (19.11.2010)
According to Pressan.is, the person who found the insect instantly took a photo and later posted it on an online chat website explaining, "I don't know about you, but I will never go back to KFC."
The Icelandic wholesale company who distributes McCain chips, used by the fastfood restaurant, caught wind of the photo and is currently investigating the claim.
The wholesale company commented, "We are taking this claim very seriously and plan to investigate the allegations thoroughly. It is not totally conclusive just from the photo that this is a bug, however, we're going to get to the bottom of this and be in contact with the customer."
*Updated (19.11.2010): This case was thoroughly investigated by the Icelandic wholesale company following the publication of this article and the potato chip was proven to have not contained an insect. The unidentifiable object in the picture turned out to be potato fibres.