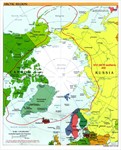 Oil and gas giant Cairn Energy is further bailing out of Asia by selling loss-making fields in Bangladesh in order to focus on Arctic projects. The Scottish-based company announced that it would sell a 37.5 percent interest in its Sangu gas field for an undisclosed sum to its Australian partner Santos International. Last year the company made a loss of USD 3.7 million before tax on its Bangladesh interests.
Cairn's shares rose by six percent after the announcement but the firm is still negotiating with the Indian government and the state oil company in the hope of raising more money to fund their controversial drilling campaign in Greenland. Although Cairn's first two offshore wells have failed to produce gas in commercial quantities, the company plans to spend $1.2 billion drilling in the largely untouched region.
Simon Thomson, commercial director of Cairn, said, "Over the last 16 years, Cairn has been a strong supporter of international investment in Bangladesh and with its partners has invested more than $1bn helping to provide its people with energy security. Cairn believes that now is an appropriate time for Santos to take over the ownership."
The U.S. Geological Survey predicts that as many as 50 billion barrels of oil could be trapped under the ice in the Arctic region. Cairn has announced that they will now shut up operations off the coast of Greenland for the winter after encountering technical difficulties while attempting to drill a third well.
Cairn energy has been highly criticised by environmental groups and the international community for their Arctic projects in the wake of the Gulf of Mexico BP oil spill.