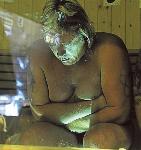 A man who nearly died in the Sauna World Championship finals in Finland this summer, says he does not blame the event organisers.
The disastrous final contest in Heinola on August 7 matched Timo Kaukonen with Russian Vladimir Ladyzhensky, who tragically died after exposure to temperatures of over 110°C. Kaukonen was rushed to intensive care and only survived after spending several weeks in a coma.
According to Helsingin Sanomat, Finland's national newspapaer, Kaukonen said that the question of blame was a very simple one. "If you sign the paper, then that's it", he said, referring to the release form all contests must sign to absolve the organisers of all responsibility.
A police inquiry into the events leading up to the accident, which captivated the world's media, is still ongoing. Kaukonen, however, claims he cannot remember it at all.
The staff at the burns unit in Toolo Hospital, Helsinki, was amazed at Kaukonen's fast recovery after suffering burns on 70 percent of his body. His legs were the worst affected and the hot steam, created by water hitting the hot stones every half a minute, was so extreme that he also suffered damage to his lungs and kidneys.
Kaukonen said he regretted taking the endurance contest so seriously and wished he had given up earlier. His movements are still restricted by his injuries, but he has improved so much that he has been brought from Helsinki to a hospital near his home in Lahti. He has been told that he could be released by Christmas.