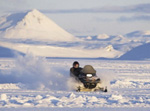 As film enthusiasts will know, Iceland is one of the prime locations for shooting adventure films in the world; films such as 'Die Another Day'; 'Lara Croft: Tomb Raider'; and 'Batman Begins' have all had scenes filmed across parts of the island. This positive exposure has caused an increase in demand for adventure tours and weekend breaks in Iceland.
Thrill seekers can experience glacier tours via snowmobiles or super-jeeps across Vatnajokull or spills in the swirling glacial waters of Jokulsarlon. Another once-in-a-lifetime adventure is an ATV tour on the black sandy beaches of Sudurfjorur. Here you will experience the beautiful surroundings of southern Iceland, whilst enduring an exciting four-wheel drive at exhilarating speeds.
After an invigorating day of glacier hiking, snowmobiling or quad biking around Iceland there are also plenty of opportunities to relax during a weekend break in Iceland's capital, Reykjavik. The Blue Lagoon, a short drive from Reykjavik, is a geothermal spa situated in a lava formation on the Reykjanes Peninsula. There guests can enjoy the relaxing 40 °C temperatures and the beneficial active ingredients that have positive effects on the skin.
To find out about all that Iceland has to offer, visit www.inspiredbyiceland.com/things-to-do/