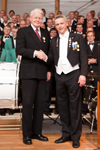 The Kotlumot male choir concert event, held every 5 years, celebrated its seventh edition in the small town of Fludir in the south of Iceland over the weekend.
Fifteen different male choirs from all across Scandinavia attended the Iceland event with the 600+ choir members all singing together in the opening ceremony, attended by the President of Iceland, Mr. Olafur Ragnar Grimsson.
Mr. Eythor Edvardsson, chairman of the Scandinavian Male Choir Association, held an honourary speech in the opening ceremony where he awarded the President of Iceland the gold medallion of the Scandinavian Male Choir Assocation, for his support of the male choir community of Iceland and other Scandinavian countries.
"Mr Olafur Ragnar Grimsson has always been a strong supporter of male choirs throughout the years and deserves to be recognised for his efforts," commented Edvardsson.
Karlakorinn Fostbraedur, a well respected Icelandic male choir founded in 1916, also participated in the event. Karlakorinn Fostbraedur has held concerts all over the world including St. Petersburg and Lithuania just to name a few.
The Kotlumot music event saw around 1000 attendees and, according to all involved, was a successful and enjoyable event.