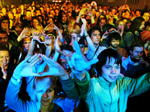 Wow, this weekend sure has been busy. This is why we bring you both Friday and Saturday's review today; filled with an eclectic couple of days of live music, from death metal to party pop. Yeah, we love Iceland Airwaves!
Friday
I arrived at Sodoma to a half empty venue, except for a few people who looked lost and a few people wearing Slayer t-shirts. Sponsored by UK metal magazine, Metal Hammer, this night was set to be full of Iceland's best and upcoming rock acts.
Gone Postal were first to play, bringing some technical death metal to the table, who were, if you're into that kind of thing, incredible. Tight musicianship was adamant, mixed with screams, fast guitars and an onslaught of double bass drumming. Even though the crowd was sparse, those in attendance sure weren't disappointed.
The next band to play were Iceland's Momentum, whose progressive inspired metal has labelled them as the 'tightest band in Iceland's metal scene'. A statement for which proved to be correct this evening. The band's set took a journey through melodic greatness with some heavy chug riffs thrown in and not to mention the impressive drum skills of drummer Kristjan. Inspiring stuff.
Next I popped next door to Venue to catch Teeth, as part of the Moshi Moshi night. The crowd, who were all wearing big ironic glasses, found the party beats, live drumming and crazy vocals as a reason to party hard. This was my reason to go somewhere else.
At the Reykjavik Art Museum (Listasafn), pop-rockers, Dikta took blasting through their Coldplay-type sing-a-long songs to the next level. Unfortunately, as I was positioned at the very back, the band's sound travelled to the white walls of the Museum instead of my ears, so I couldn't hear much. However, the people at the front seemed to love it. Good for them!
Saturday
So Bar 11 was an Airwaves off-venue regular, as this was the first point of call. The guys to kick it everything off were the band, Saytan. I guess it's a play on the word, Satan. Sadly for them, nerves got the better of them tonight. The band, comprised of two guitarists and one synth player, seemed to be struggling with remembering what they were doing. But to their credit, the sound was too muddy for them to hear what they were playing, so much so the low bass in the tiny venue was unsettling for everyone, including the band. Poor guys.
Within the space of twenty minutes, Bar 11 was packed to the rafters with excitement and people for the next band, Rolo Tomassi. The band certainly felt at home playing on a tiny stage to a large crowd as their energy levels were on par with a Duracell battery. Seeing them play their quirky keyboard-lead hardcore was so much fun. This came across with the band, who were also rather witty during between-song-banter. Certainly a highlight of the festival for me.
I then ran straight over to the lovely Idno to see the equally lovely Codes in the Clouds from the UK. The venue suited their post-rock 'epicness' perfectly; the sound was incredible, the musicianship was incredible and their 'epicness' was incredible…as expected. Next up was Iceland's fresh-faced classical youngster, Olafur Arnalds, along with sting quartet and visuals. For Mr. Arnalds the crowd were kind enough to sit down cross-legged in silence for his beautiful compositions. The whole show was captivating; whether it was his on stage wit, marvellous sound journey, graceful string arrangements or the wonderful visuals from the back of the stage. His few technical difficulties were a slight shame, which seems to be a common occurrence. Nevertheless, it was excellent.
Just across from Idno is NASA, on Austurvollur, my final venue for the evening. I just managed to capture the last song from Mount Kimbie, of which was great. Their blend of dubstep and electropop was a welcomed change. Mount Kimbie certainly got the crowd hyped up for Iceland's version of Kraftwerk, Apparat Organ Quartet, who have been previously described by The New York Times as "soul-stirringly portentous mechanical music". I cannot say I would agree with that statement, but from the amount of partygoers there, they sure did have something. The band's creativeness, and use of drums, home made organs and junk cast off synths, was fresh and very, very loud. Their signature double hand triangle throw-up sign was present everywhere, this sign meant party time. And party they did.