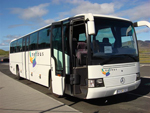 Netbus, a family-run bus charter service, is welcoming visitors to Iceland this winter with cheap and friendly airport transfer service from Keflavik to select accommodation across downtown Reykjavik.
The company not only offers discounted airport transfer to and from Keflavik International Airport, but also to the world famous natural spa, Blue Lagoon. The Blue Lagoon Bus Service includes both transfer to the spa and the entrance fee, with five separate departures on a daily basis from Reykjavik. Netbus also offers three departures a day from the Blue Lagoon to Keflavik International Airport; pick up at hotels in Reykjavik is free of charge.
Over the course of 50 years, Netbus has always believed in providing quality service at cheap prices. Netbus also believes in providing its customers with expert knowledge about Iceland and the country's unique landscape and history.
Netbus consists of a fleet of 14 minibuses and coaches with daily transfers across Iceland. Now in 2010, the Netbus family still maintains its tradition, experience and punctuality.
To find out more about airport transfer service to and from Keflavik with Netbus, alongside the Blue Lagoon Bus Service visit, www.netbus.is/en