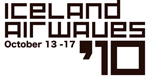 The streets of Reykjavik are already buzzing with anticipation for tonight's grand opening of the annual Iceland Airwaves music festival. The next five days are set be packed with fun, loud music, not so loud music, partying, dancing, merriment and a bit more fun.
This year is to be the biggest Iceland Airwaves yet, with 290 shows within on-venue schedule, filled with both Icelandic musicians and musicians from afar. Those to watch out for include Robyn (SE), Everything Everything (UK), Hjaltalin (IS), Bombay Bicycle Club (UK), Hercules and Love Affair (U.S.), Dikta (IS) and Agent Fresco (IS), amongst other top class acts.
Despite all festival passes being sold-out, there will be copious free off-venue shows for those who have unfortunately missed out on passes.
So see you around town with a beverage of your choice, maybe some blood, sweat and tears, a hotdog and hopefully a smile.