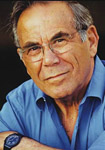 Israeli entrepreneur, Stef Wertheimer is to receive an award for his contribution to ethical business and industry at the 2010 Oslo Summit peace conference, held on the 18th October at the Oslo City Hall, Norway.
Stef Wertheimer, alongside six other businesspersons, will receive the Oslo Business for Peace Award at this year's Oslo Summit. The award, sponsored by the International Chamber of Commerce and the Business for Peace Foundation, is to honour the seven business figures for their contributions towards the advancement of ethical business practice and social responsibilities.
This year will be the first time that an Israeli businessperson will be receiving the Oslo Business for Peace Award, which is considered to be the most prestigious award within business management.
Wertheimer, a former Member of the Knesset, is most famously known for founding four industrial parks in Israel, with the goal of fostering economic growth and job creation to help create stability in the region.
The six other honourees for the Oslo Business for Peace Award include, Venkataramani Srivathshan, the Managing Director of Olam Nigera, Francis Yeoh, the managing director of the YTL Corporation Berhad, Ratan Tata, the present Chairman of the Tata group, Emily Cummins, a product designer and developer, William Rosenzweig, the Managing Director of Physic Ventures and Robert Sendra, Chairman of the Board of Grupo Bimbo.
For more information regarding the Oslo Business for Peace Award and the 2010 Oslo Summit peace conference visit, http://www.businessforpeace.no/