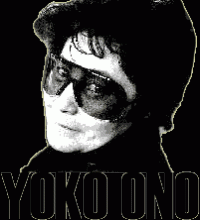 John Lennon, one of the most influential musicians of all time, would have been 70 years-old yesterday had he lived. In celebration of the birthday, his widow Yoko Ono and her band The Plastic Ono Band, took to the stage at Reykjavik's Haskolabio auditorium last night. Ono also presented the Lennon-Ono Peace Prize and reignited the Imagine Peace Tower yesterday.
Fretttabladid's Kjartan Gudmundsson chatted with Yoko Ono about the concert and life in general.
"I love Iceland and always have fun there, especially when it snows. I love snow and when I think of Iceland I always imagine it blanketed in white snow. I have often thought of investing in a house in Iceland, but when I come I am always so busy that I don't have time to look for a house. Maybe that will change one day," says Yoko Ono, widow of the late Beatle John Lennon who would have been 70 this week had he not been murdered in New York City in 1980.
Yoko and the Plastic Ono Band, which she co-founded with Lennon in 1969, took to the stage at Haskolabio last night. The Plastic Ono Band released the album Between My Head and the Sky last year, marking the first official use of the band's name for 24 years. Between My Head and the Sky was very well received by critics and fans alike – something that she confesses took her by surprise. "I am not used to getting good reviews from critics for my music, except maybe from those interested in avant-garde music."
Members of The Plastic Ono Band come and go – and over the years the band has included former Beatles George Harrison and Ringo Starr, the guitar god Eric Clapton, Kieth Moon from The Who and Klaus Voorman, who was a good friend of the Beatles and played bass for Manfred Mann.
Asked whether Lennon's big birthday provokes particularly strong emotion, Ono said that it does not especially: "I miss him every day and always the same amount, just like the whole world – but it is also a positive feeling. It is important to be positive, and John thought so too.
"I am very excited to spend his birthday in Iceland because I am certain that he would have liked the country a lot. He liked clean air, clean water and was totally in love with wonderful countryside – just like everybody who visits Iceland."